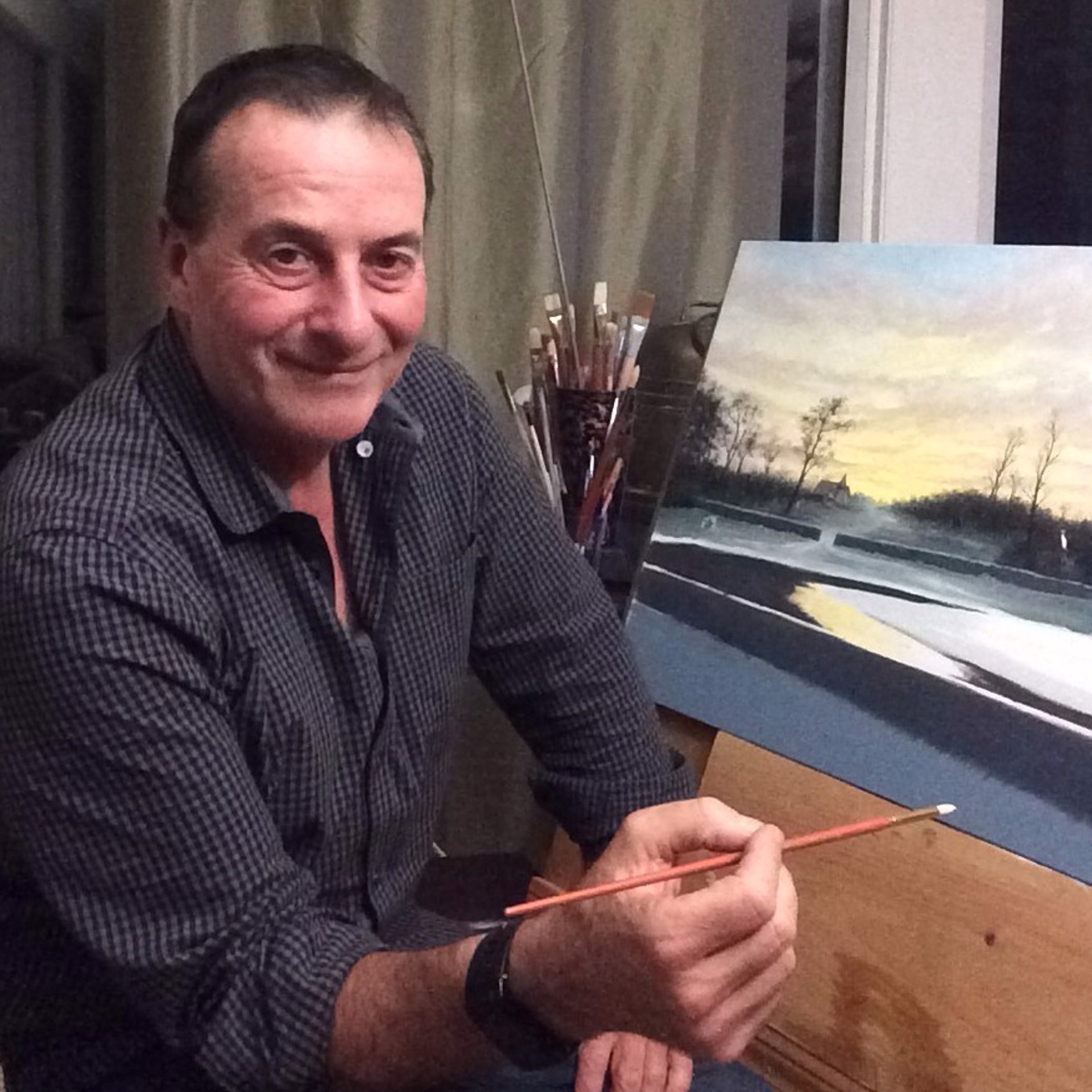 Beverley Barnard
Bev Barnard spent his childhood in a lovely manor house in England filled with art collected by his parents. He recalls, "I always drew and painted though I've had no formal training in art. Much to my dad's dismay, my first piece of 'art' was created by pouring a tin of paint over a cupboard in my house." He and his brother grew up drawing, painting, sailing and practicing photography. For high school he went to King's School in Canterbury, where he spent hours on the grass square drawing. He won an award for his drawing of Canterbury Cathedral.
After a couple of years of traveling and sailboat racing across the English Channel, Barnard attended Brighton College where he studied the History of Design and continued to teach himself to paint. By not taking classes or workshops and not following any painter stylistically, he was able to find his own inspiration and develop his own techniques. He has "always been a great fan of Turner," but Barnard never attempted to duplicate others' work. Like his father, he has a great love of photography and has used both his photographs and his plein air experiences as inspiration for his paintings.
While in college, Barnard sold his first three marine paintings in an open–air art show and he was on his way in the art world. He was able to combine all of his passions-sailing, sailboat racing, his romance with the oceans and art. He soon founded the Society of South Coast Marine Artists and opened a gallery on Marine Parade with a friend of his who sold sailboats. "It was actually a great way to sell marine paintings." During this time, he also wrote and illustrated cartoon books based on humorous anecdotes from prominent actors, sailors and politicians in England at the time. Two of these, Rogue Waves and Straight From the Horse's Mouth were published and 50% of the royalties were donated to charity.
With the funds from his gallery and book sales, at age 26, Barnard was able to buy his own sailboat and sail solo across the Atlantic "without any specific plan." On this journey, he stopped in Gloucester, Massachusetts and "met (his) wife in a bar. (He) never left." Together they raised two children and, while he painted a bit, more practical endeavors took precedence. Barnard began working in the mortgage business in 1989 and currently works at Webster Bank. In December he invited the WSA, where he serves as a board member, to have a holiday exhibition at the Webster Bank in Wellesley.
His children are now grown and his son just bought his first sailboat at age 26. About 3–4 years ago, Barnard's painting took off once again. He remains self-taught and continues to develop his own style and techniques. He recently painted a water scene for his daughter and her husband who are running a medical business in Nigeria. His art continues to evolve and take on more meaning. Currently he is working on a series of landscapes with hidden features dealing with the progression of life and death. Water Over the Dam, painted after the passing of his mother, is a compilation of scenes, including the church in England where he went as a child, the South Natick Dam where he now loves to kayak and an image of a man on a bench with his head in his hands. This piece was awarded Honorable Mention in a WSA show.
In addition to the WSA, Barnard is also a member of the North Shore Arts Association and was just accepted to the Copley Society in Boston. His work is featured at Charles Fine Arts, a gallery in Gloucester. He is currently working on setting up an online gallery through Art Storefront and is a featured artist for Craft For All Paint on Amazon. Charitable giving remains important to Barnard who is now donating limited edition prints of his work to support causes close to his heart such as the Easterseals of MA.
View more about Beverley Barnard & his artwork at our online marketplace.
Read More