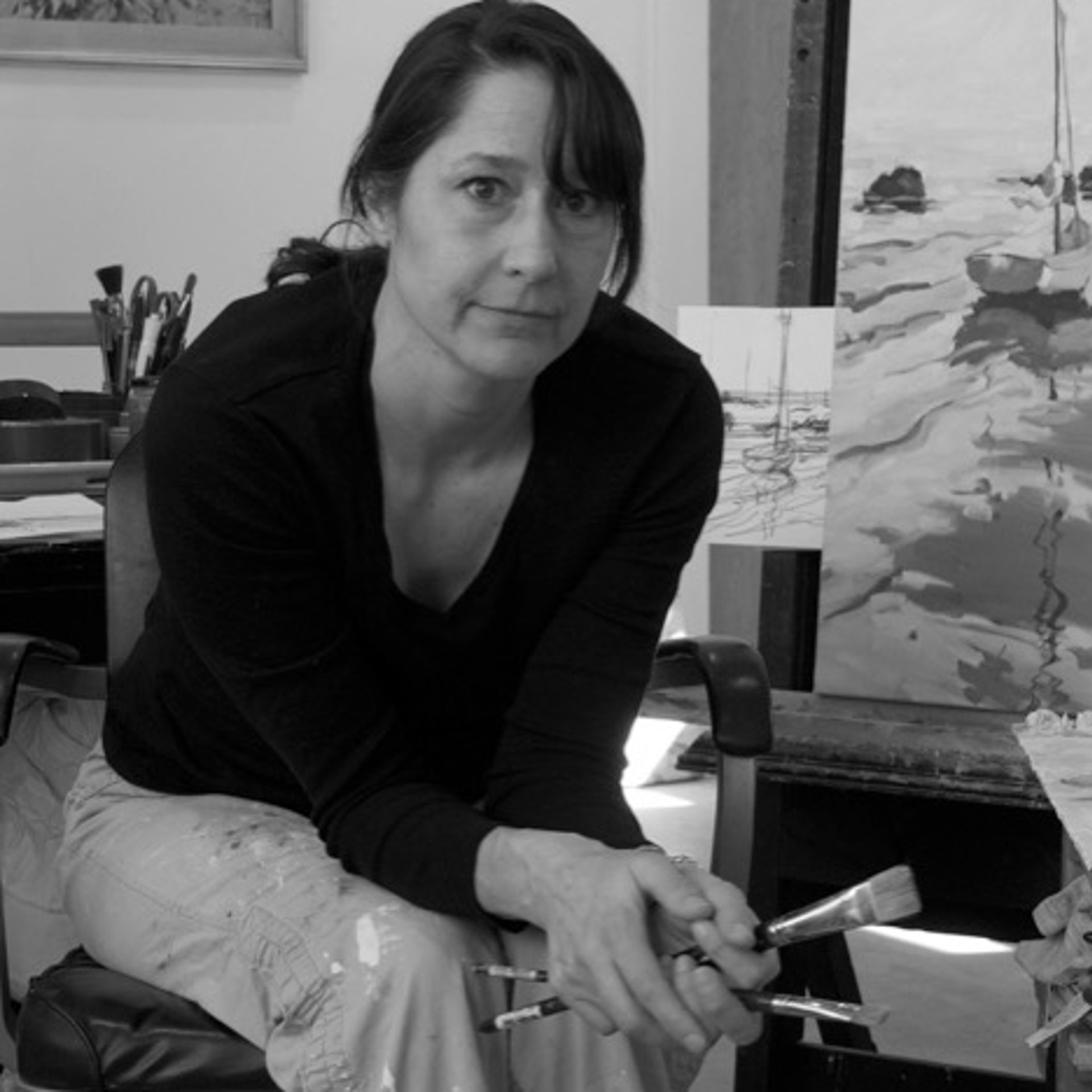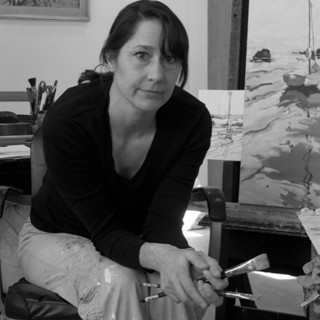 Rokhaya Waring
"I paint the way I cook and the way I garden. Inspiration is an appetite. The painting process is physical- involving all my senses. Through flavors, colors and textures, what I hope to convey is the feeling of being there: space, light, movement, the power of nature, transient beauty that is often bittersweet."
Rokhaya Waring was born in 1966 in Santa Fe, NM. French by her mother and American by her father, her dual-nationality and bilingualism have had a profound influence on her work, as has her homeschooling. In 1972, Waring's parents settled in Rockport, MA and founded La Petite Ecole out of their own home, now The Waring School. Her most lasting memories are of days at this school, the outdoors and the hand-made; camping across America, printing on an antique letterpress, milking goats and baking bread... and above all, sketching daily. The habit of visually recording her experiences and the natural world has not only helped keep memories alive, but has become the foundation of her artistic technique and vision.
After graduating from Princeton with a BA in Art History/Visual Arts, Waring spent her first summer painting in the Provencal village of Forcalquier. Her principal home for most of the next twenty years, this cultivated yet rugged landscape perfectly suited her artistic vision, providing inexhaustible inspiration. Waring also spent time living and painting in various parts of New England, San Francisco, LA, Charleston SC., Israel, Italy, England, the Caribbean, and Tahiti. In 2008 Waring moved to Gloucester, MA.
The majority of Waring 's current work is inspired by this gritty, albeit picturesque New England town. Though one locale is situated on the north Atlantic coast, the other in the lower Alps, many aspects of Gloucester and Cape Ann of which Gloucester is a big part, recall la Haute Provence of her own formative years. The spirit of Impressionism and plein-air painting, with its constant change in light, color and mood, are a natural extension of her sensibilities and lend vibrancy to her work. Waring enjoys the advantages of painting directly from nature, and in her studio. It is in the quiet focus of this space that her vision is distilled and refined.
Waring has exhibited in dozens of solo, invitational, and juried group shows in cities such as Boston, New York, San Diego, Paris, and in Provence. She is a member of Oil Painters of America, a past member of The Copley Society, and has shown at the Salon Des Artistes Français, the Salon d'Automne, and the Currier Museum of Art. Her paintings are held in hundreds of collections internationally. Notable collectors include Carl Crossman, art dealer and appraiser for Antiques Roadshow, U.S. CTO (2009-14) Todd Park, Andre Agassi, and Brooke Shields. Waring is featured in the book "100 Artists of New England" (Schiffer 2011) and in "The American Flag in Contemporary Art", (Schiffer, 2015).
Read More