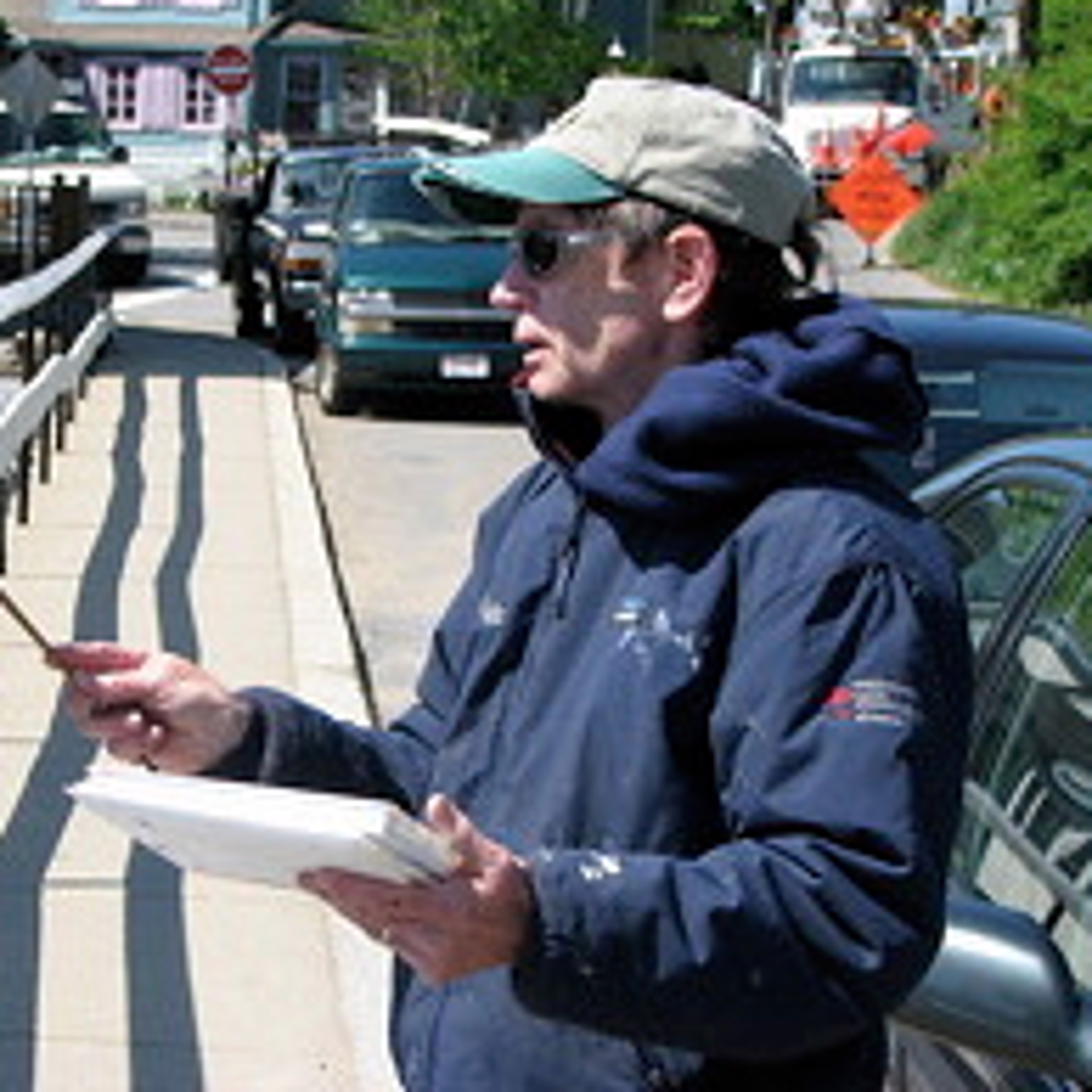 Ted Bidwell
My journey into the art world began in New York City in the free wheeling 60s. The city's distinct architecture and interesting building shapes stimulated an interest in drawing and catching unusual light effects from NYC's great sunsets. I also became fascinated with the magical effects of light on otherwise dreary and drying mussel and clam shells on the beach by our summer house on an island in mid-coast Maine. In those days I did many watercolors both of beach shells and local island homes. I had long been inspired by the impressionist artists, Van Gogh, Monet and Cezanne. To me their best legacy was their creative use of the brush to convey a moment in time when light created something visually special. For the past 30 years I have been fortunate to live in the colorful city of Gloucester Massachussets where everyday strolls bring you by sites where Winslow Homer, Edward Hopper and Emile Gruppe painted. These are some of my favorite artists and now I understand why they were here. Gloucester's working waterfront provides ever changing scenery of fishing boats, dock workers and lobstermen along with hills covered with colorful houses. Many of these yards store boats and flow smoothly down to the harbor. Some say the light effects have extra wattage in Gloucester, and it is thought its because of the prevelance of sea on every side of the city.
After a long career in the financial industry which left little time for the art interest, retirement opened a new door to what has become a near full time vocation. My schooling has been in the form of regular lessons at the Rockport Art Association, with teaching artist Ron Straka. In addition to enhancing an understanding of the fundamentals of oil painting, Ron has imparted a desire to make each work more exciting that the original subject. I also have participated in workshops with artist/teachers David Curtis, Don Stone, and David Lussier among others. I paint both from photographs and from location and in oils and acrylics. I have begun using watercolors to quickly capture fleeting light effects for further works in the studio. The advantages of on location or plein air painting are well appreciated. Light and shadow effects are much more pronouced and more easily understood, although with New England weather it is not always practical to paint outdoors. When I do paint outdoors it is the most rewarding and most challenging of my painting experience.
I find it most enjoyable to paint in the "impressionist" style, trying to capture a fleeting moment when the eye catches something striking in the natural setting. Color is what is left after light does its work on a subject and its the ultimate draw in art for me. I love how different colors work together and how one color or color temperature will dominate a scene and make it memorable. Catching this memory and translating it for others is the ultimate reward and social contribution of the artist.
On most days I can be found stalking the harbor in Gloucester looking for subjects and waiting for interesting light effects to emerge. Or you might find me in Maine, squinting at the tree studed rocky coast and admiring the scenery of the islands of Penobscot Bay where I also paint. I have participated in art shows in local libraries, banks and in group shows with fellow artists. In Maine I show regularly at the Islesboro Historical Society and the Islesboro Community Center.
Read More